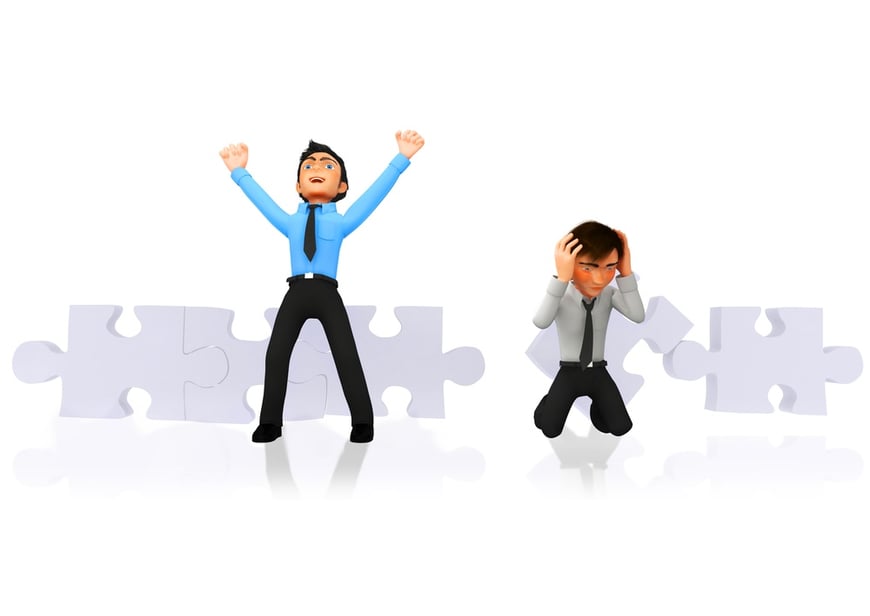 You may have seen me talk about using legaltech to achieve great outcomes. You may have nodded your head in agreement. After all, who wouldn't agree that getting a great result is, well, great? But what does this actually mean?
There are a lot of legaltech options out there. If you've tried one piece of legaltech, and been left feeling like the guy on the right, you're not alone. This happens all too often. With so many providers (sometimes appearing to offer the same solution), you have to find one that can solve problems you have, in the way that suits you, in the way they said they would. Don't part with your money or your time, until you know this will be the case.
Easy to integrate into existing systems
If something is difficult to integrate into existing systems, it is likely to be expensive and take a lot of time and testing to ensure the environment works as required. Ideally, a solution will work alongside or on top of existing systems. It's a tough call to go with full integration, before you know something is exactly what you need. With the rise of cloud-based providers, integration (and proofs of concept) can be only one click away.
Solves actual problems
Everyone could do things quicker. Nobody has ever said "I've got enough time to do everything I need". In addition, let's look from the perspective of a lawyer in a law firm, an in-house lawyer and a non-lawyer. For a lawyer in a law firm, two of your main problems might be retaining existing clients and winning new clients. For an in-house lawyer, gaining the confidence to empower business units to do more of the work would be up there. For a non-lawyer, lower legal costs and faster turnaround times are always demanded. Wouldn't it be nice to have a tool or tools that can solve all of these problems?
Best of breed
Once you know what problem(s) you need solving, a great outcome would be to find the best piece(s) of tech to solve them. Often, you'll be presented with a number of options. A common scenario might be choosing between one provider that claims to do one thing very well, or another provider that claims to do several things very well. The Economist in me favours that, in general, the more specialised a provider is, the better that provider will be at that speciality. The question is, then, whether you go for the best of breed or something less effective, but which covers more bases?
It depends on what you need. Let's look at test cricket, by analogy. If you have a world class, well-balanced bowling line-up, but you're short in the run department, do you look to introduce an all-rounder who averages 25 with the bat and 0.5 wickets per test match with the ball, or do you find a specialist batsmen who averages 50+? On the other hand, if you don't quite know what you need, but you know you keep losing games with poor batting and poor bowling, then perhaps the all-rounder is the safer option, but are you actually solving either problem?
Not a drain on your time
Time is scarce. If you need to spend a lot of time learning how to use a piece of tech, you're facing an uphill battle. Even if you really want to implement and use it, you simply can't. The tech needs to be easy to use, even for the technologically-challenged.
Linked to this, if the tech requires a lot of your help to build, then your day gets even shorter. As noted in my most recent blog, if those providing the services have stood in the shoes of the end user and don't require a lot of hand-holding, then not only will less of your time be required to get things done, but the outcome will be closer to a great one. Spend your time doing what your good at and enjoy doing – leave it to your legaltech provider to do what they're good at and enjoy doing.
Handles the level of complexity required
If you need something that can do A, B and C at the level of an inexperienced lawyer, then a piece of legaltech that can achieve those results might be all that is required. However, if a great outcome is getting the same (or better) result as an experienced lawyer in a real-life transaction, but 10 times faster, something more powerful will be required. Whatever technology you go for, I'd recommend you really test out how complex and customisable it is before committing.
Let me go back to my cricket analogy. Just because two players call themselves right arm leg-spinners, it doesn't mean both of them can offer the same thing. Sure, both can generally turn the ball from right to left, but how much can they turn it? Can they make it go the other way? Do their deliveries drift into the pads? Greatness here (in cricket terms only!) is Shane Warne. Whatever provider you choose, make sure you've got the Shane Warne of that area.
How can I see what is out there?
By now, you hopefully know what a great outcome looks like for you. If you would like to find out more about what is out there to get that, there are a couple of upcoming events that LawHawk (along with many other friends in the legaltech space) will be exhibiting at: (i) LawFest (in Auckland on 17 May 2017); and (ii) ILANZ conference (in Rotorua on 25 and 26 May).
Come along to see these technologies first-hand. Failing that, Gene and I are always available for a chat or a demo.
There's a lot of legaltech out there - you just need to find the best solution(s) to match the problem(s) you have. Wouldn't that be a great outcome?
What do you think great looks like? Is there something I've missed? Let me know!