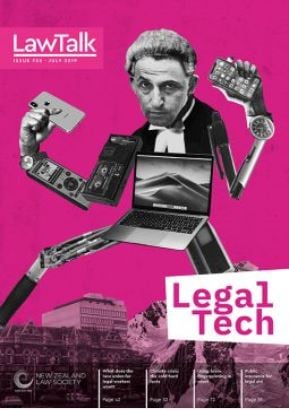 I was interviewed for LawTalk 930 on what impact legal tech is actually having on the New Zealand legal market.
You can read the full article here, and below.
Legal technology is a burgeoning industry with an enormous and vibrant array of conferences, workshops, hackathons, CLOC events and seminars around the world. Add the word "disruption" and throw in talk of artificial intelligence and robot lawyers and it becomes both exciting and sometimes confusing. In this issue of LawTalk we look at some of the legal tech developments in New Zealand and talk to some of the people involved.
So, what's "legal tech"? A good working definition comes from US lawyer and legal tech commentator Jonathan Nessler:
"Some legal technologies are designed to help law firms to acquire more clients. Some of these technologies help law firms better serve current clients by helping the firm operate and provide legal services more efficiently. Legal tech also includes certain technological advancements, like Blockchain and artificial intelligence, that are being identified as technologies that many experts predict will disrupt the legal profession in an unprecedented way."
Of course, digital technology has assisted lawyers since the 1970s and the days of dial-up databases such as LexisNexis and Westlaw, through to BriefCase and LINX in New Zealand in the late 1980s, followed by CD and then online legal information. Legal tech moves the game from finding out what the law is to the things lawyers do.
Being able to automate routine tasks and to customise to individual needs also has the potential to enable lawyers to change how they work and how they sell legal services. This is where the "disruption" element enters.
"The biggest challenge in terms of advancing more universal adoption [of new legal technology] remains that many lawyers simply favour the traditional way of working," three British academics concluded at the end of 2018.
In "Disruptive technologies and legal service provision in the UK: A preliminary study" (available through SSRN) Dr Alan Cunningham, Professor Andrew Jones and Professor Bruce Tether from the University of Manchester use surveys and observation to look at "the increased application of technology to the difficulties involved in efficiently and transparently providing quality legal services". Things are changing, they say – at least in the UK – with a quarter of all new legal service organisations introducing a new or improved service in the last three years and a whole new landscape of start-ups emerging; many with an exclusive focus on legal service provision.
"On the whole, clients demand accessible, excellent service, value for money and transparent, competitive fees. The increased application of technology solutions in the legal sector – and competition from alternative business structures utilising tech solutions/tech focused law start-ups – may result in increasing pressure on traditional firms to adopt the application of fixed fee and invoice transparency. This may result in the further challenge of satisfying in-house procurement and the development of outsourcing specialists." (at 52-53)
New Zealand, of course, also has a healthy legal tech industry. Automio and Simmonds Stewart, LawHawk and a number of other clever enterprises and products such as Actionstep, LawVu and several smart contract developers have all emerged in the last decade or so. A lot of the focus has been on behind-the-scenes products and services for purchase by law firms or in-house teams. Basically, a range of tech tools and solutions are either being offered directly to New Zealanders wanting to access some transactional legal services such as wills or to firms and in-house operations which want to automate some of their functions such as contract generation.
LawFest founder Andrew King's LegalTechHub includes many tools for more efficient lawyers but it's moot whether the result will be serious disruption of our legal services industry. Legal Beagle's standard documents ("our legal documents cost between $20 and $350 – way cheaper than a lawyer") may be a good indicator of the current level of disruption.
Where's it all going?
Recently Chicago-Kent College of Law Professor Daniel Katz caused consternation at the June 2019 Artificial Intelligence in Legal Services Summit in London when he predicted a massive consolidation in the legal tech world.
"You can't have 17 people doing the exact same thing, without a dime's worth of difference. The products are not that differentiated in most instances. You're going to see acquisitions, you're going to see bankruptcies and you're going to see platforms," he said.
The predicted platforms are a number of mega legal tech app stores. Professor Katz – who is also vice-president of global legal work and operational support firm Elevate and therefore has a commercial interest in this as well – says big players such as LegalZoom and the Big Four accounting firms are already moving towards one-stop app stores for legal tech.
The New Zealand environment
Respected legal practice commentator and creator of the annual Future Firm Forum, Simon Tupman, says he feels that technology has made some legal services more accessible, more easily understood, the price more transparent, and in some cases cheaper.
"I'm not entirely convinced technology is really transforming law firms but it is true to say we do now have smarter tools to manage and measure things that matter in the workplace compared with 20 years ago, eg, document management, health and wellness, client satisfaction, etc. In spite of all the technological advances, I believe the operational focus in many law firms is still much the same as it was 20 years ago. Many are still recording hours billed and using partner profitability as key measures of productivity and success."
The world is changing and law firms need to change too, Mr Tupman says.
"Law firm leaders would do well not to rely on technology to keep step with change but to drive an agenda that focuses their operations on client satisfaction, team well-being and engagement, and environmental performance."
Biggest changes
Two important players in the New Zealand legal tech scene were asked for their views on what is happening and where they see things developing. Gene Turner, a former Buddle Findlay partner, is founder of document automation developer LawHawk. eDiscovery pioneer Andrew King has developed and organised the annual LawFest event which is the most important gathering and forum for New Zealand's legal tech.
Looking at the legal technology available and being used in New Zealand now, what do you see as the biggest changes over the last decade?
Gene Turner: Looking back to 2009, so much has changed. For me, back then, the biggest thing would have been being able to check my email on my iPhone, and some stuff we were doing with Word Macros for document automation.
The biggest overall change since then would be the widespread adoption of cloud technology. As a lawyer who wanted to use technology, but needed an IT team to install and maintain it for me, even just for a trial, it just felt like it was going to be too hard and expensive to even work out what was possible.
With cloud technology, it's so much easier to sign up and start testing and using many products straight away, often on free (or very low cost) trials. If it doesn't work, or I find something better, I can turn it off. There's nothing to stop anyone (lawyer, secretary or manager) from having a play with some new software on their own computer at home to see what it can do, and how it could support their firm and their clients.
All the technology that we use at LawHawk is now either directly via the cloud, or still available over the internet through the managed IT service that Resolve Technology provide for us.
Integrations are also a lot easier with cloud software, and that is increasingly happening. This means you don't have to look for one single overall solution forever – you can pick different specialist products for particular issues, and combine them with other existing or new systems, and then change them as needed.
There's also been a lot more investment into the sector. You can see this in a number of ways. In the document automation space the main players (HotDocs and Contract Express) have both been acquired by substantial legal platform providers (HotDocs by AbacusNext and Contract Express by Thomson Reuters) who are investing heavily into the platforms and rolling out new products and functionality. At the same time there's a host of new entrants all looking to provide a new way of doing it. There is a lot of choice.
There's also a lot of powerful functionality that is being rolled out through normal business tools offered by Microsoft and Google that can effectively be used as legal tech.
Andrew King: There has been so much change with legal tech.
Over the past few years there has been considerable development of great legal tech locally. This has resulted in some fantastic legal tech start-ups, with many now taking their solutions to the world.
One of the key developments is that many of these solutions have been lawyer-led, or by those inside a law firm that are intimately aware of pain points. They have developed solutions to meet these problems – ultimately making lawyers more efficient and to better meet the demands of their clients.
This has contributed to us creating the LegalTechHub as a resource to keep up with everything you need to know about legal technology in New Zealand.
The market has evolved from why you need to innovate and leverage technology to how we can actually do this. From a LawFest perspective, it is great to see an influx of people attending to find what others are doing and their practical examples of how they are innovating through leveraging technology. It is vital to continue to explore ways that you can adapt and thrive in this changing market, to help you deliver legal services for today and the future.
Do you think the various legal tech developments have had any real impact on the way New Zealand lawyers deliver legal services?
Andrew King: These are exciting times with the impact that legal tech is making and will continue to make.
Technology is changing how legal services are delivered and will continue to change. Legal tech has become integral to the delivery of legal services, as it enables lawyers to do things better, cheaper and faster.
An increasing number of lawyers and their firms are opening up to the opportunities to innovate through leveraging technology.
Routine and repetitive administrative tasks are being automated, freeing up lawyers to spend more time working with their clients to create better outcomes. Many of these tasks are now being performed quicker, cheaper and more accurately through the assistance of technology.
How we access case law, research, manage documents, dictate, bill and communicate is all changing. Technology continues to be a game changer for conveyancing, research, wills, M&A and company searches, together with using data to help make better business decisions for you and your clients.
Close to my own heart, how eDiscovery is approached has changed dramatically. Thanks to the great tools available you can get to only what you need without having to eyeball every document.
Sure, technology cannot and will never do everything. Critical skills like analysis, judgement and problem solving are just as important as they have ever been; it is just that technology can be used to assist in this. The technology should help to make lawyers' life easier, more efficient and better meet the demands of clients.
Gene Turner: For those using the new technology in a material way, as part of a core business process, we have definitely seen substantial positive impacts. Some of these are financial, but they also include higher quality, lower risk, better relationships with clients, increased learning, and greater overall job satisfaction.
As one of our customers said, they were struggling under "an unmanageable workload with more and more demands being thrown in", but "using LawHawk has made the impossible task possible and the team now feel like they have doable jobs". Not a bad result from a very targeted project.
Overall though, not really. Most lawyers are not really at the point where they are doing anything meaningfully different. I don't think this is unique to New Zealand. An Australian with a good understanding of that market told me that "we find that there is a deep, but mostly denied concern about being 'replaced'," if they use technology, and "more sophisticated adopters know that they are not about to be replaced and that they can look at a wide range of tools for a wide range of solutions, but that is only about 10% of the potential user base". So there's room to improve…
I'm sure there will be a point where lawyers realise it can be lawyers AND tech, rather than lawyers OR tech, but it's not here yet.
Progress will also be easier when the people you work with are also comfortable using the technology. Most legal processes involve multiple parties, so you can't just choose to change things yourself. As a simple example, I love digital signing and would use it every time if I could. But if the other party isn't comfortable, I still have to print, sign, scan, email, file … I hope this changes soon.
Is legal tech just about tools which make lawyers work smarter and more cost-effectively, or could it be more revolutionary?
Gene Turner: At this stage, what we've seen is a lot more about using technology to do the same work, for the same clients, in a better way, but using the same business model. That in itself can yield some fantastic results because we all know that the way a lot of law is delivered can be improved a lot, and you can increase the amount of service and the quality without trade off.
There's definitely a lot more potential for revolutionary change too, including how lawyers could deliver different services, to different clients, using different business models. You can really embed your firm into your client's core business processes and make a massive difference. However, that will most likely need to come after more people have adopted the technology and can more easily see those opportunities and how they can be achieved. Things might become more interesting then, because competition could increasingly be for the whole of the market, not just a share of it.
The revolution will come, but only when enough people are ready to change.
Even if the rate of change has to be more measured, I would love to see more ambition as to the objective. I think it's disappointing that both the Bazley report and the recent commentary around young lawyers unionising seem to be based on an assumption that legal work can only be done by working long hours, and so there's a focus on increasing compensation. With clever use of technology, we could see real progress in areas of access to justice, law firm culture, diversity, and part-time work if we were more open to investing in better outcomes and changing the way we work.
Andrew King: Before technology is considered, it is important to consider exactly what you want to achieve to meet your business goals – and if technology can enable you to achieve this.
Sure, technology can greatly assist lawyers to work smarter and more efficiently, although it can be so much more.
Legal tech provides opportunities – the opportunity to deliver legal services that better service your clients and the potential of new clients. Your clients' needs will be evolving, and they will require innovative ways of delivering legal services.
Embracing technology and new business models will open new opportunities, which will make you more valuable. Technology should be at the heart of your new business models, as it can provide amazing opportunities to generate new revenue streams. You can start selling legal products online, anywhere from legal documents to services. Technology can help level the playing field delivering opportunities to compete with firms that may have more resources.
Technology can also help provide greater access to justice for those who may not always seek legal services due to cost. This will be provided by non-traditional sources, which will include 'robo-advice' and 'chat-bots' for straightforward legal problems.
There will be further automation of tasks that are time consuming, costly and presently performed by humans. The profession will be able to focus on practising law and providing expert legal advice for their clients, instead of being restricted by time consuming administrative tasks.
The law firms of tomorrow will be the ones that innovate through leveraging technology, to deliver more efficient, valuable legal services that better service clients. The ones that choose not to, could be left behind by an increasingly competitive market.