In these earlier posts Time to visit the legal sausage factory - Questions for clients to ask their lawyers in 2017 and The legal sausage factory - will lawyers show clients how they make their sausages?, we suggested that if clients really want to see more value from their legal spend, they need to be more inquisitive and assertive and find out how their law firms currently work, so they can see what changes they require.
We've come up with 13 questions that clients can ask their lawyers to work out if they are modern and efficient firms working towards best practices, or if they are a 'legal sausage factory', churning out a product that looks ok but hoping you never see how it's actually made.
The first question we suggested asking is "Can you show us how you actually work?".
The next three questions focus on technology, because this is absolutely central to their ability to make major improvements. It's also the biggest threat to their continued existence because internationally and in New Zealand a substantial amount of legal technology is being developed, which will enhance those lawyers that adopt it and replace those that don't.
Our technology questions focus on what legal technology they are currently using, and what they plan to adopt (and in each case whether it is for the benefit of the client or the law firm), and how do they keep their clients' information secure?
2 What technology have you already adopted for our benefit?
Many law firms talk a big game about their use of technology, but in reality a lot of the technology that law firms have adopted has been more for the benefit of the firm than the client.
The most common technologies law firms use is not exactly revolutionary, with a recent United States survey showing the five most common forms of technology adopted for use in the United States by smaller firms of up to 29 lawyers in the previous 12 months are case/matter management (11%); time and billing (10%); document management (8%); e-billing (7%) and document drafting tools (7%).
New software adoption has often been more about how to more effectively record and bill time that in the past might have inadvertently slipped through the cracks, than how to reduce the amount of time in the first place.
Even where firms have adopted new technology that enables them to work faster or better than they previously did, to what extent have those benefits been passed on to the client?
You could ask your lawyers to tell you what technologies they have adopted in the previous three years, and how - in quantifiable terms - that has been to your benefit.
3 What technology will you adopt for our benefit?
If the existing state of technology adoption by firms has not been good, at least there are many opportunities to improve on that now.
In July last year I was asked to speak at a conference about the changes occurring in the legal profession, and some of the technologies that the law firms present could look at adopting. I was surprised at how much there already was, with more coming. When putting my notes together I had enough material for a short ebook, which is available here and summarises 50+ technologies that lawyers could consider adopting NOW.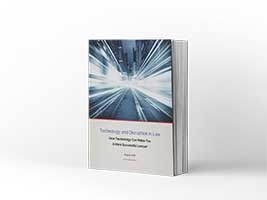 Many of these are software as a service products which are widely used in industries outside of law – probably in your own organisation already – and which law firms could just as easily pick up. They often come with free trials and tiered pricing structures which make them very easy to test and progressively adopt as experience shows how to use them best. It's just not that hard!
Despite the number of readily available solutions, the recent United States survey referred to above showed that two-thirds of firms plan to implement no changes in technology in the next 12 months. Is New Zealand likely to be that different?
Each firm should have a technology roadmap they can show you, setting out the technologies they are considering, trialling or in the process of adopting. Don't just rely on general assurances. Ask for these details.
4

How do you keep our information secure?
2016's hacking of 11.5 million confidential documents from the law firm Mossack Fonseca & Co certainly put the spotlight on law firm security, and at the end of 2016 it was reported that a number of leading US firms had also been hacked.
When setting up LawHawk as an online business, originally I ran everything through my Microsoft Office 365 accounts, storing everything through OneDrive. That was probably fine as I got going, but I wanted a higher level of assurance to offer LawHawk's customers.
As I worked through Government cloud computing security requirements I felt there was more we could do. As well as having LawHawk's website provided through eStaronline (who have PCI DSS Level 1 security accreditation) integrated with world leading automation specialist HotDocs' document automation processing which occurs securely on Microsoft Azure, we shifted LawHawk's general IT to Resolve Technology's hosted desktop for greater assurance of security, managed by experts. I now feel much more confident that we have best practices in all these areas so that our customers' information is as safe as we can make it. I work off a Surface Pro tablet which I can take anywhere and connect to my desktop, but if I lost it for any reason, none of my LawHawk information would actually be on the device.
If you don't already know, you could ask your law firms how they keep your information secure (via IT and other security measures). Are they working with industry experts to ensure they keep up with evolving best practices?
Consider attending LawFest
On a very related note, I signed up last week to attend LawFest which is a conference focussed on how the legal profession can innovate through leveraging technology, both today and into the future. Its on 17 May 2017 at the Langham Hotel in Auckland, and if you are interested in the issues above, you should consider going. You can see more https://lawfest.nz/.
We will set out further questions in this blog over coming weeks. If you would like access to all 13 questions now, please download this PDF ebook now.