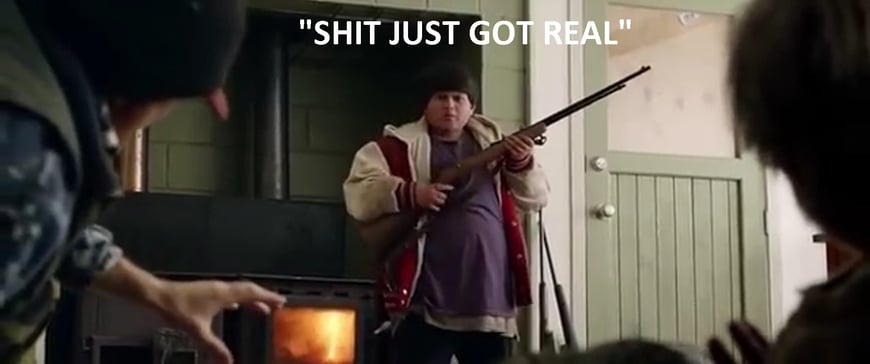 Happy New Year everyone!
Typically the Christmas/New Year period in New Zealand is a time of rest and relaxation after the pre-Christmas rush that occurs every year. This means it could be easy to miss the large number of interesting articles that surface around this time of the year, recapping on what happened in the previous year and predicting what will happen next year.
It would be a shame to miss these, because there's still a sense of complacency and lack of knowledge in New Zealand about the amount of change that is coming, and how much time law firms will have to adapt to the change when it arrives.
We've captured the most interesting articles we read over the past couple of months and listed them below. I think it is staggering how much is happening internationally, and have little doubt that 2017 will see a lot more progress than we've seen to date. I hope this helps you to see how real these changes are, and factor them into your plans for 2017.
What do you think about this? Are there any other interesting articles you think should be mentioned?
What were the key developments?
This summary by Robert Ambrogi The 10 Most Important Legal Technology Developments of 2016 is a good start point for key developments over the past year. In particular, Ambrogi mentions the rise in the number of legal startups. He is maintaining a fast growing list with 613 entries (including LawHawk) which he is sure underreports the true number.
The rise of legal tech startups is also covered here Legal tech start-ups—shaking up the legal market?.
Who are the major players and what are they doing?
This article The new spectrum of legal services is a really good summary of how the legal services market is evolving into a range of different offerings from traditional law firms, innovating law firms, "New Law", partnerships between "Big Law" and "New Law", LPOs, and Automated Technology Providers. Take a look at the players listed – its serious stuff.
Along the same lines, this article 30 people to watch in the business of law in Asia in 2017 is a really useful summary of some of the key players in the Asian (including Australian) area and what they are bringing to market.
Closer to home, Rebooting the legal profession by Lawyers Weekly is an interesting take on what is happening in Australia, exploring the successes and challenges firms have experienced in implementing technology, the material impact this has had on their service propositions and internal culture, and how they think the situation is likely to change as technology rapidly progresses. You have to wonder how New Zealand firms will keep up with their Australian counterparts.
In this thought provoking article, Automated And Agile: The New Paradigm For Legal Service, Mark Cohen looks at major players like Axiom and UnitedLex and concludes that law firms had a monopoly on legal delivery when legal expertise was its sole element. Legal delivery now requires legal, technological and process expertise. It also requires capital and domain expertise. He says the days of undifferentiated, 'big box' law firms are over. Well capitalized, tech and process savvy service providers with domain expertise and agile, client-centric models will continue to expand their market imprint. He says that law firms—not service providers—may soon be the legal vertical's 'alternative providers.'
Will Technology replace lawyers?
Most commentators (including me) believe that technology will enhance lawyers, rather than replace them. That's certainly the approach we want to take with LawHawk. However, there are definitely people out there who are looking to replace lawyers. For one recent example initially starting in China, see this article: Legal Startup ai.Law set to deploy "an army of robotic lawyers" in China. AI.Law's founder and CEO concludes that "Since we are making robotic lawyers to replace human lawyers, we are certainly aiming to replace law firms in the future."
Will we see the end of the billable hour?
This has been talked about a lot for many years, but most pricing in New Zealand is still underpinned to some extent by the billable hour.
However, some major changes are occurring internationally – driven by some of the largest and most sophisticated clients. See Finally, Will 2017 Mean R.I.P. for the Billable Hour?, GlaxoSmithKline Says No to Billable Hours, and 3 Types of Legal Tech Startups Undercutting the Billable Hour. In 2008 97% of GSK's legal work was completed using the traditional billable hours model. In 2015, this was 16%.
For an older, but still very useful perspective on the importance of in-house counsel driving these changes, see this article Moving to Non Time Based Legal Fees: In House Counsel-an integral part of the solution by John Chisholm.
What is happening in the contract space?
While we are trying to do our bit for document automation in New Zealand, there is a lot happening internationally. One interesting example is Clause.io which produced the world's first 'IoT-enabled' legal contract. You can read about that here: Intelligent Contract Founders: Clause.io.
This article 4 Ways Technology Is Changing Contracts gives 4 different examples of ways technology has entered traditional contract work that could change its basic structure.
Other interesting stories
This article Legaltech Shifts to Watch for in 2017 is interesting for summarising four key technology forces set to change the dynamics and define the future of the legal market. The fourth one – recombinant technology – is crucial. When the power of technologies combine, the speed of development escalates. These individual technologies are impressive in their own right – but they are being designed to work with, and enhance each other, which means the total will far exceed the sum of the parts.
Although this wasn't an article, I came across Eagle Eye Contract Vault, which describes itself as allowing customers to successfully capture audio and video recordings of important events that occur and store them securely in the cloud. When we think about witnessing contracts, and questioning whether lawyers have adequately explained important documents like wills, powers of attorney and guarantees, wouldn't it make more sense to just record that event happening so there was no doubt about what happened?
I also liked this story BT confirms RAVN relationship because it shows how technology is being deployed in new ways to solve big problems. In this case, BT estimate they are saving GBP100m per annum by using RAVN's sophisticated document review software.
In Australia, this article 'True' AI machine unveiled outlined how Australian tax law practice Cartland Law has released Ailira (Artifically Intelligent Legal Information Research Assistant) – an AI software platform that "expedites tax practitioners' ability to research and apply Australian tax law". It refers to a case study where a speech pathology student with no experience in the tax industry undertook a university tax exam. By using Ailira, the student was able to understand certain tax legislation concepts and achieve a confident exam pass of 73 per cent. Not a bad start!
Conclusion
As you can see, there is a lot happening around the legal profession that is going to come to light this year. To paraphrase Ricky Baker from Hunt for the Wilderpeople, "This is definitely real"! There's also a lot that's being written about it – if you have the time to locate it and make sense of it.
For those who are more time pressed, we will continue to keep across these topics this year, and bring the most interesting stories to your attention via our blog. Please sign up on this page if you would like us to keep you in the loop on this.
We can also offer more specific advice. If you know you need to understand your technology options, but technology really isn't your thing, we are also happy to talk to you directly about your options, and whether we can help or who else might be suitable. Just get in touch for an initial chat.
Wishing you a successful 2017!