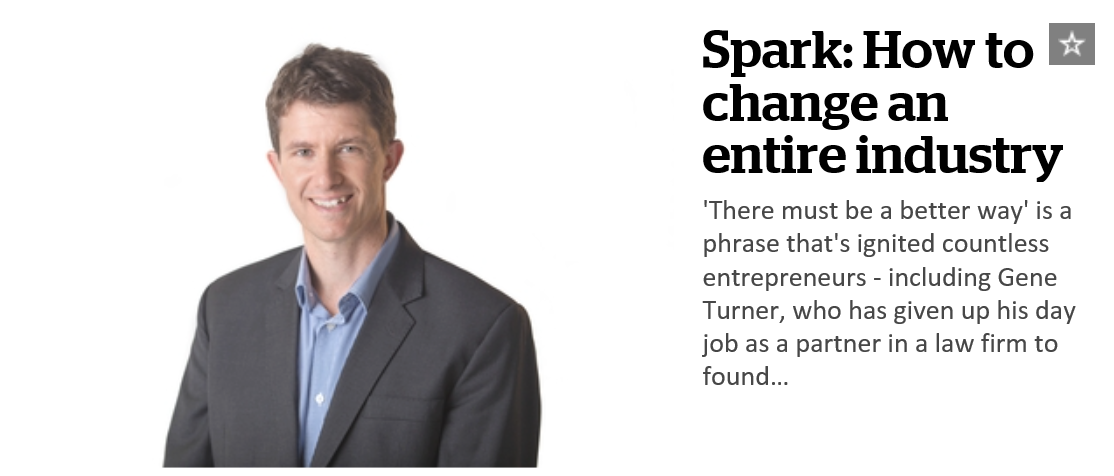 The New Zealand Herald has put the spotlight on a new breed of entrepreneurs – "netrepreneurs" – in their article The netpreneurs. We're delighted that LawHawk is acknowledged as a member of this tech-savvy business group for our "disruptive" approach to the drafting of legal documents.


Thanks to Spark and the NZ Herald for recognising LawHawk's potential to make a difference, and we look forward to making our 'better way' available soon.

Read the full article below
Spark: How to change an entire industry
5:00 AM Tuesday Mar 8, 2016
There must be a better way' is a phrase that's ignited countless entrepreneurs - including Gene Turner, who has given up his day job as a partner in a law firm to found a tech start-up.

Turner is the man behind LawHawk, a cloud-based tool providing legal document templates to generate customised legal documents in just a few minutes. It's a disruptive concept in the legal industry, where documents are traditionally 'handcrafted' through a manual and time-intensive process of drafting and reviewing, which also involves multiple lawyers.

While some legal document automation does exist, says Turner, it is basic and allows only limited customisation.

LawHawk was born out of Turner's own experience and frustrations as a partner at a major law firm. He saw much of the effort and cost in producing documents was spent on the first 80 per cent of pulling together a draft, leaving not enough time to work on the final 20 per cent - where the real legal expertise is applied to the situation involved.

So he turned to technology, creating the cloud-based LawHawk software to forge his 'better way': "LawHawk's essentially the tools I wish I had when I was in practice, and how I think most lawyers will want and need to work. In many ways, it's similar to what Xero has done for accountants, freeing them up to become valuable business advisors, do higher margin work and enjoy their work more."
LawHawk launches in May, and Turner has high hopes for the company's growth.

"Because it's entirely based in the cloud, LawHawk doesn't have the same constraints to growth applying to a traditional legal business selling time. It can be as big as LawHawk's customers want it to be."

While Kiwi inventors in the past may have turned to No. 8 wire, today's entrepreneurs are increasingly taking advantage of digital tools and online connectedness to create new businesses and business models disrupting traditional ways of doing things.

The 'evolve or die' message isn't new but it's perhaps more pertinent now than ever, according to Richard Sandford, head of business marketing at Spark home, mobile and business. Sandford points out that, while technology is helping usher in big change, it's the customer who's leading it.

"Businesses need to keep pace with the customer because they're the ones that are setting these trends, not the technology. The technology becomes the enabler," he explains. "Customers are becoming more demanding and they expect products and services now to be delivered in a certain way. That means businesses need to be one step ahead."

Despite this, almost half of small businesses in New Zealand have no online presence, according to Spark research, with only 53 per cent having websites and only 28 per cent of those are mobile-optimised.

They are missing out, says Sandford, as last year New Zealand businesses lost $1 billion of online spend to overseas competitors.

Andy Hamilton, CEO of business growth centre The Icehouse, points to a number of sectors - such as finance, logistics, tourism and media - where digital innovation is driving new types of companies and ways of doing business.

For example, innovation globally in the financial sector in recent years has triggered the rise of the likes of peer-to-peer lending, equity crowdfunding, blockchain and bitcoin, and is leading to "a fractionalisation of finance into really small units that are not just the domain of the uber-rich", he says.

"What we forget is how quickly this transformation is happening. We all take for granted having smartphones now but, when you actually look at what you do with your smartphone these days, you see how the innovation happening in some sectors has become quite pervasive."

However the fundamentals of business don't change, says Hamilton: "In New Zealand our challenge is how we get our businesses to scale, to get good margins and returns when the market is inherently small. Digital helps take out some cost for businesses but then the question really is 'how can it be used to disrupt?' That's the exciting thing - unless you're being disrupted yourself."

Sandford acknowledges business owners are often time- and cash-poor, particularly in smaller operations, so a crucial initial step for many is understanding technology can add real value - internally through increased efficiency and productivity and by opening new revenue streams.

Businesses need to start simply; the first point for many is to get their businesses online. Creating a mobile-optimised website is imperative, given half of all traffic to some websites is now coming from mobile devices and 45 per cent of Kiwis have purchased a product or service via mobile.

Spark's web builder product, powered by Putti, for example, is free to Spark business mobile customers and allows them to create a mobile-optimised website in 20 minutes.
"That's at the heart of growing your business footprint, and optimising your cost to serve too. For example, if you're a bricks and mortar retailer, using online as a sales channel is like having another store; simply put, it's another way to reach more customers and sell more things."